December 25, 2008
Benq E2200HD Good?
Posted by: pctutorials : Category:
Hardware
The other day I purchased a Benq E2200HD monitor to replace my aging Benq 17" FP71E+. It actually died on me for no reason, hence me not posting any new content. I opened it up and found two power resistors on invertor board loose. I attempted to resolder the resistors but even after the repair, no joy. It will probably go on ebay for someone to use as parts.
As for the new Benq E200HD, is it any good? From my viewpoint, i quite like it. The screen is vibrant (had to turn the brightness down to 65) and running at 1920×1080, the detail is awesome. It also has a HDMI port, which at the moment, have my XBOX 360 attached to.
Reading about the monitor, there were many people rating this as a great monitor while others did not like it so much. Part of the reason people didn't like it was because of the aspect ratio. The Benq E2200HD monitor has an aspect ratio of 16:9. This is perfect for movies and console gaming because you won't have any black bars on the display. However, most PC monitors have an aspect ratio of 16:10, which means the screen is slightly taller rather than longer. My opinion? I believe it has plenty of height, but that's because I orginated from a 17" LCD. And because most other 22" panels are 1650×1050, the 1080P resoultion of the Benq E2200HD makes up for this.
If you are in the market for a 22" LCD monitor, I suggest if you can, go see this monitor in person. Your eyes won't lie.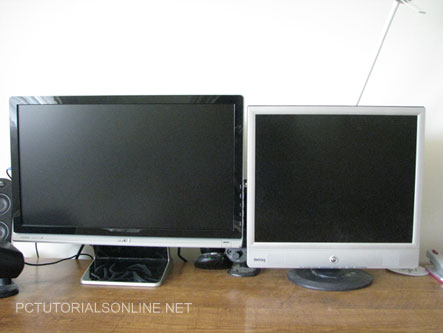 If you enjoyed this post, make sure you subscribe to my RSS feed!
Related Entries
One Response to "Benq E2200HD Good?"
Leave a Reply