November 25, 2008
I don't know about you, but I'd save $100 rather than spending it on an official Xbox 360 wireless G adapter. I also know it's possible to buy a Linksys WRT54GS and use it as a bridge, but your still spending money. If you have a computer that already has a wireless connection and that is close by your Xbox 360, you're in luck. Using a Ethernet cable, you can attach your Xbox 360 to your computer, then share the internet connection via the wireless. Interested? Here's how to go about it:
Attach a Cat5E Ethernet cable to your PC to the Xbox 360.
Turn on your Xbox 360. On the PC, enable the Wired LAN port. You should get a connection however windows will display a limited connection notification, which you don't need to worry about now.
On the Wireless Connection icon in Network Connections, Right-click and select properties >Advanced tab> select a tick in "Allow other network users to connect through this computers Internet Connection"> Select from the combo box the Wired Lan Connection, in my case "Local Area Connection". Click OK. See screenshot for details.
Back to your Xbox 360, Test Xbox Live in the networking settings options. You should now have successfully attached your Xbox 360 to the internet.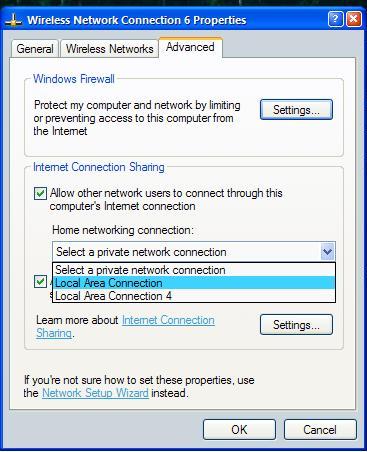 I haven't tested any FPS (or any games) online over this connection as I don't have a Gold Membership. Also, you will need to have your computer switched on to be able to use Xbox 360 online because the PC is the gateway. Still, not bad for free wireless for your Xbox 360!
If you enjoyed this post, make sure you subscribe to my RSS feed!