October 31, 2009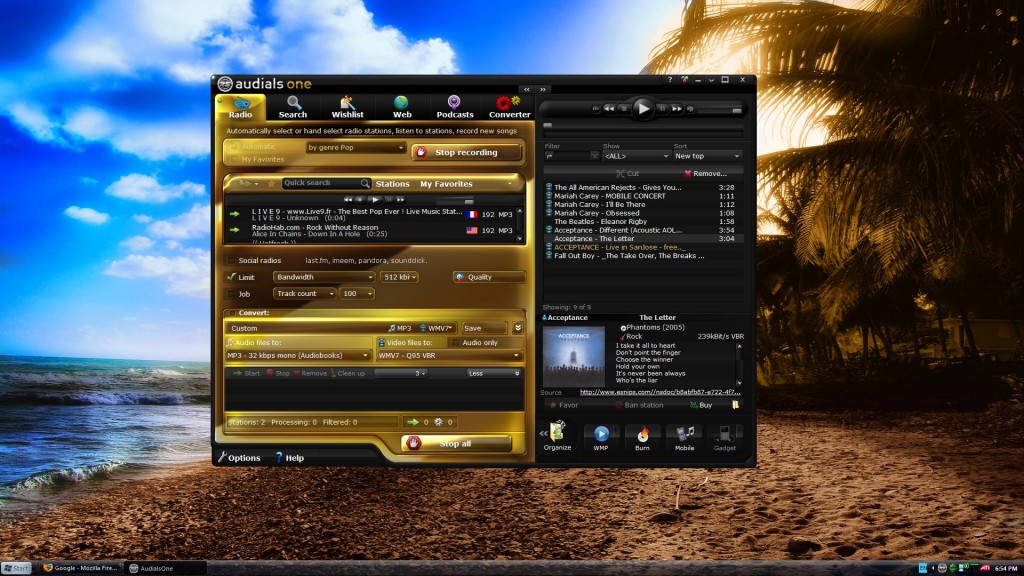 Audials One, by RapidSolution Software is perhaps one of the most featured pack media centers of all time. Audials One can grab multiple radio stations at once, watch and convert videos, create ringtones, burn CD's and much more.
When I was first introduced to the software, I wasn't quite sure of its functionality. Having played around with it, the incorporated features are endless. I'll split the features into 6 sections based on the tabs in the software: Radio, Search, Wishlist, Web, Podcasts, and Converter.
Radio
The radio section allows you to select multiple radio stations based on your choice of genre or wishlist (more about this later on) , record them, and split the songs into whatever format you want. Remember, all of this is done automatically for you. There's thousands of radio stations to choose from, so you're guaranteed to find something you like.
Search
The Search function allows you to search the internet for videos and mp3's. Not only can you use a title search to find music, but also based on genre and similar artists in your current music library. Once the MP3 has been downloaded, it can be converted if desired, the MP3 is tagged, Album Art is added, and lyrics are grabbed as well. Nice.
Wishlist
The Wishlist allows you to add artists to a list in which Audials One will crawl the net looking for songs and videos related to that artist. There is also the option to share wishlists with other people. Basically, it's audio on demand.
Web
So you have been on the net watching some videos, saw a video you really like and want to save it. AudialsOne monitors you internet temp folder and gives you a list of all the videos you have previously viewed. Once again, you have the option of converting the video to a selected video format if you wish.
Podcasts
Subscribed to multiple Podcasts? Audials One will download multiple Podcasts in parallel to make the most of your internet connection. There are many Podcasts to search through from all over the globe, so make sure you take a browse.
Converter
Converter allows you to convert any multimedia file on your PC to your selected format. Ranges from WMA, Ogg, FLAC to MP4, 3GP,XVID and many more. Also, Converter can strip your DRM protected audio files to give you freedom.
Additional Features
Audials One allows you to burn your multimedia files to CD, with the choice of a standard audio CD or Data disc. Using the audio files in the library, you can make your own ringtones, allowing you to customize each ringtone as much as you like. You can also synchronize your selected songs to your MP3 player.
Summary
Audials One contains a huge amount of features which have been packaged very well into a easy-to-use interface. It's suited to a wide audience of people, but mostly those who want to download music and videos. Those who want to free their music from DRM will be in on this too. Audials One represents excellent value for money for people whom love audio and videos. Grab your copy of AudialsOne today.
If you enjoyed this post, make sure you subscribe to my RSS feed!