December 17, 2008
Auslogics BoostSpeed Takes a Test Run
Auslogic is an Australian based software firm that has just recently released an optimization suite, BoostSpeed. BoostSpeed is an application designed to boost the speed up of your Internet, tweak Windows to its peak performance and help keep your PC running faster, cleaner and error free. That's a big ask for one program as it has to tackle many areas of the PC. Can Auslogics BoostSpeed make the cut? Let's take a look.
Installation is straight forward with no restart required. Starting up BoostSpeed will expose the clean graphical user interface, which makes it easy for anyone to use including those with minimal tech know-how.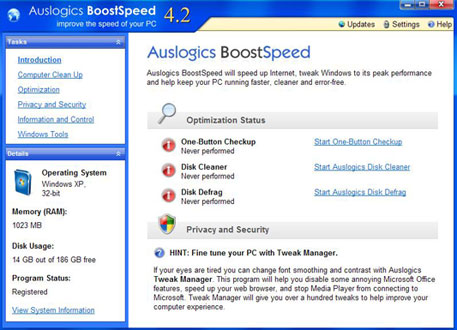 To give your PC the works, the first step is to click One-Button Checkup; this will scan the registry, your hard disk, check for disk fragmentation and check your system protection. Once scanned it will display a summary of the problems and will ask you to fix them by simply clicking the Fix Now button.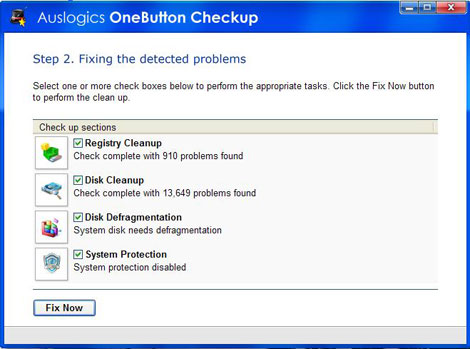 The One-Button Checkup is probably what most people will use, however if your a power user, BoostSpeed has a lot more to offer. Making our way to the Computer Clean Up tab, you'll be given a list of tools: Auslogics Disk Cleaner, Auslogics Registery Cleaner, Auslogics Uninstall manager, and Auslogics Startup Manager. If you didn't notice, the first two tools mentioned above are used in the One-Button Checkup.
The Uninstall manager is much better than the Windows version. It has the ability to search through programs installed; making is much easier to find the program(s) you wish to uninstall. The layout is easier to read because Auslogic have implemented a grid layout. The service manager is laid out in a similar fashion and is easy to use.
The Optimization tab unveils a disk Defrag utility, registry defragger, internet optimizer, and a memory optimizer. Both the latter utilities are designed to improve the speed of your internet and free up memory. However, you must note that while there is some gain, it doesn't beat getting a faster internet plan or adding an extra stick of memory, it only optimizes what you have.
Privacy and Security is the next tab, which has four tools to protect your privacy and increase security. The Track eraser removes any personal data from the PC ensuring your anonymity is secure. PC Security isn't a replacement for an anti virus program; however it does enable some security measures which do help. Also included is a file shredder that removes files beyond recovery. The Disk Wiper makes sure that files previously deleted cannot be restored so that prying eyes can't get your files.
Amongst the other extras, you'll find many tools such as Tweak manager which enables hidden tweaks that you didn't know about, System Information tool to retrieve system info and other diagnostic tools to help tune your PC to its full performance.
Auslogics BoostSpeed can very well improve the performance of your PC, and not just in one area, but your complete PC system. After testing out its features, I can verify that this program has improved the speed of my PC. It feels much more responsive. For what it can do, $29.95 is a small amount to pay and saves you doing a lot of manual work and hours trying to improve the performance of your PC. I suggest you take it for a trial run and see what you think: Download
If you enjoyed this post, make sure you subscribe to my RSS feed!
Related Entries
Leave a Reply