September 03, 2008
It's what everyone is looking for; to speed up a PC easily and quickly. There are many products out there that claim to improve your PC. Most of them work well, others just cause problems, and there are a rare few that perform exceedingly well. Today, I'm going to reveal to you one of them.
Tuneup Utilities 2008 is a Godsend for those who need instant speed and a cleanup. It's first development started in 1996, with it first release in '97 in Germany, Austria and Switzerland. And today, it's a very popular tool amongst PC enthusiasts because of is simplicity. And this program does give results. Featuring an effective defragmentation tool for Hard disks, a defragmentation tool also for the registry, a startup manager, an internet optimization tool, and much more Tuneup utilities 2008 is an ace program.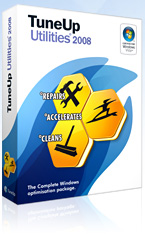 Optimization is the main purpose of this program; however they have gone a bit further in allowing users to customize windows. With over 400 options to choose from, optimizing windows just got a little bit sweeter.
More information : Tuneup Utilities 2008
If you enjoyed this post, make sure you subscribe to my RSS feed!
Related Entries
Leave a Reply