February 07, 2009
StumbleAudio: Discover New Music
Posted by: pctutorials : Category:
Internet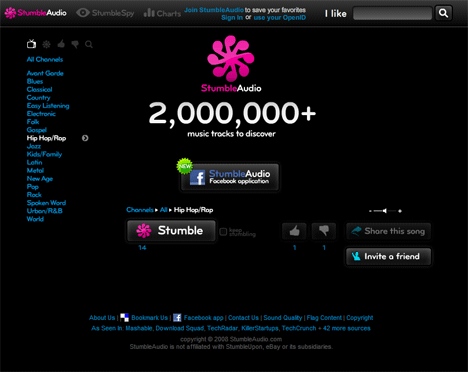 Similar to the website Stumbleupon, StumbleAudio allows you to find similar or randomly selected music with a click of a button that has over 2 million songs in its database. It's like when you have nothing to listen to, you just hit the random button on your Mp3 Player and press play, only here you have 2 million songs to play with.
The layout is clean and easy to navigate, much like Stumbleupon. When the song plays, you will be presented with album art and a basic play/pause back /next that allows you to navigate between the album. If you wish to change artist completely, you must press the Stumble button. There is also the option of narrowing down you search for music by genre if you wish.
Creating an account will let you store your favorite track list and keep the rating you gave them. And if you find music that you like, StumbleAudio have the option of purchasing music via the right sidebar by several re-sellers such as Itunes, Amazon, PayPlay, and Cd Baby.
So, if you're after find new music by similar artists that you like, or want to discover something completely new, check out StumbleAudio.
If you enjoyed this post, make sure you subscribe to my RSS feed!
Related Entries
Leave a Reply