October 02, 2008
Today, I came across a nice windows utility called Eyes Relax. This piece of freeware reminds you to rest your eyes at a user-set interval and can set a break time. Resting your eyes from computer screen is vitally important as focusing on a single object all day long will cause eye strain.
Also, a recently added feature to the utility is parent mode. This can be used to protect your children, forcing them to take breaks. In parent mode the program cannot be disabled and the computer is password-protected during a break. This is very useful since children often forget about the real world and play video games much too long. You can download this wonderful utility from the Eyes Relax author page here: Eyes Relax 0.36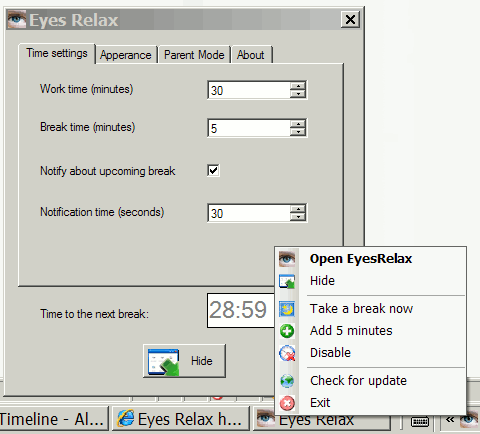 If you enjoyed this post, make sure you subscribe to my RSS feed!
Related Entries
Leave a Reply