November 21, 2008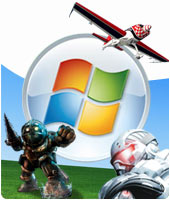 Microsoft Vista Business is designed for the work enviroment. Microsoft didn't think you'd be playing games whilst working. But think again! The games are there, just not enabled. As long as you have Administrator rights, you can enable the default games by doing the following:
Go to Control Panel and select Programs and Features.
Select 'Turn Windows features on or off'.
Then, in the Windows Features dialog, select and enter a tick in the 'Games' entry.
If you become bored at work or having nothing to do at lunch break, you can have a good old game of solitaire to kill some time

.
If you enjoyed this post, make sure you subscribe to my RSS feed!
Related Entries
Leave a Reply