February 15, 2009
Guitar Hero World Tour Replacement Cymbals
Posted by: pctutorials : Category:
Gaming
Have your Guitar Hero World Tour drum cymbals cracked? Or maybe they are not registering notes properly? Simple fix would be to send them into RedOctane for warranty replacement, but what if your warranty has ran out? Or perhaps you can't wait 2 weeks for the replacement cymbals?
Thankfully, Matt from Fnaah.com has come up with the holy-grail of do-it-yourself Guitar Hero World Tour cymbals.
Basically, the cymbals are composed of plastic dinner plates with a piezo element mounted underneath each to sense the drum hits. Add a bit of rubber to dampened the noise and some black spray paint to keep everything looking like nice and hey your set. Ingenious.
For $25, it makes it a cheap mod to do and with the guide Matt has provided, you shouldn't have too much trouble making these cymbals up, especially if your DIY savvy.
I haven't attempted to make these cymbals yet, but surely will in the near future as yes you guessed it, mine have cracked… again! Head on over Fnaah.com to check out Matt's fully pictured guide to Making your own GH:WT cymbals for under $25.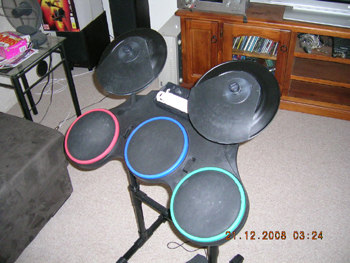 If you enjoyed this post, make sure you subscribe to my RSS feed!
Related Entries
Leave a Reply