January 15, 2009
Smaller URL with is.gd
Posted by: pctutorials : Category:
Internet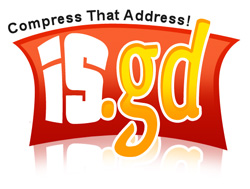 Most of you are familiar with www.tinyurl.com ; the service that allows you to shrink long urls to much shorter ones. However, there is now a website, www.is.gd that shrinks url smaller again. This is extremely handy when needing to shorten url for publications or even sending a SMS to someone as this can dramatically reduce the amount of characters needed to be typed, thus saving yourself time.
Amazingly, www.is.gc is almost half the size of what tinurl.com outputs. It is good to see some competition and will be interesting to see what tinyurl.com response is.
If you enjoyed this post, make sure you subscribe to my RSS feed!
Related Entries
Leave a Reply