December 02, 2008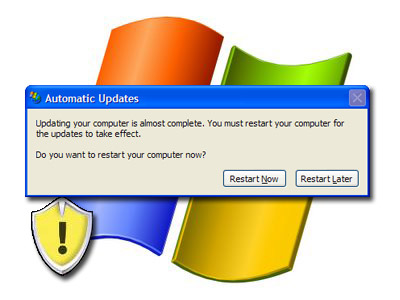 Many times before I've had windows continuously ask me to restart the PC after having installed a new update. I'd don't mind when it tells me once, but every 10 minutes or so can get very annoying, and when critcal updates are installed, it has a self timer to restart itself if the user doesn't interfere, thus loosing any unsaved work. This can cause serious problems for the end user and wasted time. Fortunately, there is a fix.
• Select Start>Run and type in 'gpedit.msc'.
• In the policy editor, browse to Computer Configuration>Administrative Templates>Windows Components>Windows Update.
• Then, in the right-hand pane, double-click 'No auto-restart for scheduled Automatic Updates installations' and, in the window that shows, click 'Enabled' and select 'OK'.
That should rid your woes of that restart reminder. Just remember to restart your computer when it suitable for the new updates to take place.
If you enjoyed this post, make sure you subscribe to my RSS feed!
Related Entries
Leave a Reply