October 08, 2008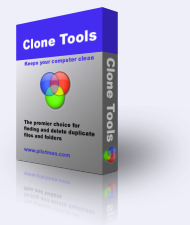 Petter Ackebo recently introduced me to a unique program called Clone Tools. Clone Tools is a Windows duplicate file finder that finds folders with shared or identical content. With a click of a few buttons, I managed to get a list of duplicate files that I didn't even know existed!
One of the features that stood out to me was that it didn't allow you to delete the last copy of your file ensuring you won't loose important data. It also forbids you to delete windows files as deleting these files could cause problems. Layout of the GUI is well presented and easy to navigate, as only a minimum amount of buttons are present. On the Clone Tools website, you can find a quick tutorial to give you a brief description on how to use Clone Tools which was very easy to follow. Scanning time obviously depends on the amount of files you are scanning and the speed of your computer, but I found it to be rather snappy.
Overall, if you're looking to save time and space, I suggest you check it out; it got me back some useful hard disk space.
If you enjoyed this post, make sure you subscribe to my RSS feed!